October 7th 2019 (This was originally written as a research piece, however given the extensive, rolling, prolonged nature of Yiannopoulos' decline, this will become a tracker instead)

Few people in politics enjoy the celebrity-esque lifestyle, but Milo Yiannopoulos did just that. Once a focal point of the American "culture wars", the now-former senior editor at Breitbart consistently toured US college campuses funded by billionaire supporters. Legions of fans demanded his presence at their campus, his books flew off the shelves, and TV appearances began to roll-in, most notably a guest spot on Bill Mahers late night talk show. After his election campaign and success in November 2016 Donald Trump had brought a new culture of celebrity to politics, and for the far-right, Milo Yiannopoulos was one of their A-listers.
But the infamy and notoriety sought by Yiannopoulos would become his downfall, as a slow series of events began to dismantle and disintegrate the one-man brand he sought to build. Exclusions, punishments, comments, failures, and huge financial voids brought down the Milo empire to a rubble-strewn halt. Some music, please.
The problems began innocuously in mid-July 2016, with Milo being permanently banned from Twitter having reportedly led a targeted harassment campaign on the platform against Ghostbusters actress Leslie Jones. The ban was only a minor inconvenience... at the time.
Far worse was to come for Milo the following year in February 2017, as comments made on a podcast with The Drunken Peasants surfaced in regards to relations between 13 year old boys and older men in their mid-to-late twenties, to which Milo appeared to endorse paedophilia and child sexual exploitation. The comments did not pass lightly, as the week of long knives commenced for the seemingly almost untouchable firebrand. On the 20th Milo was publicly disinvited from CPAC due to the comments. The following day he was dropped from his lucrative book deal with Simon and Schuster worth around $250,000, and the day after that he formally resigned from Breitbart.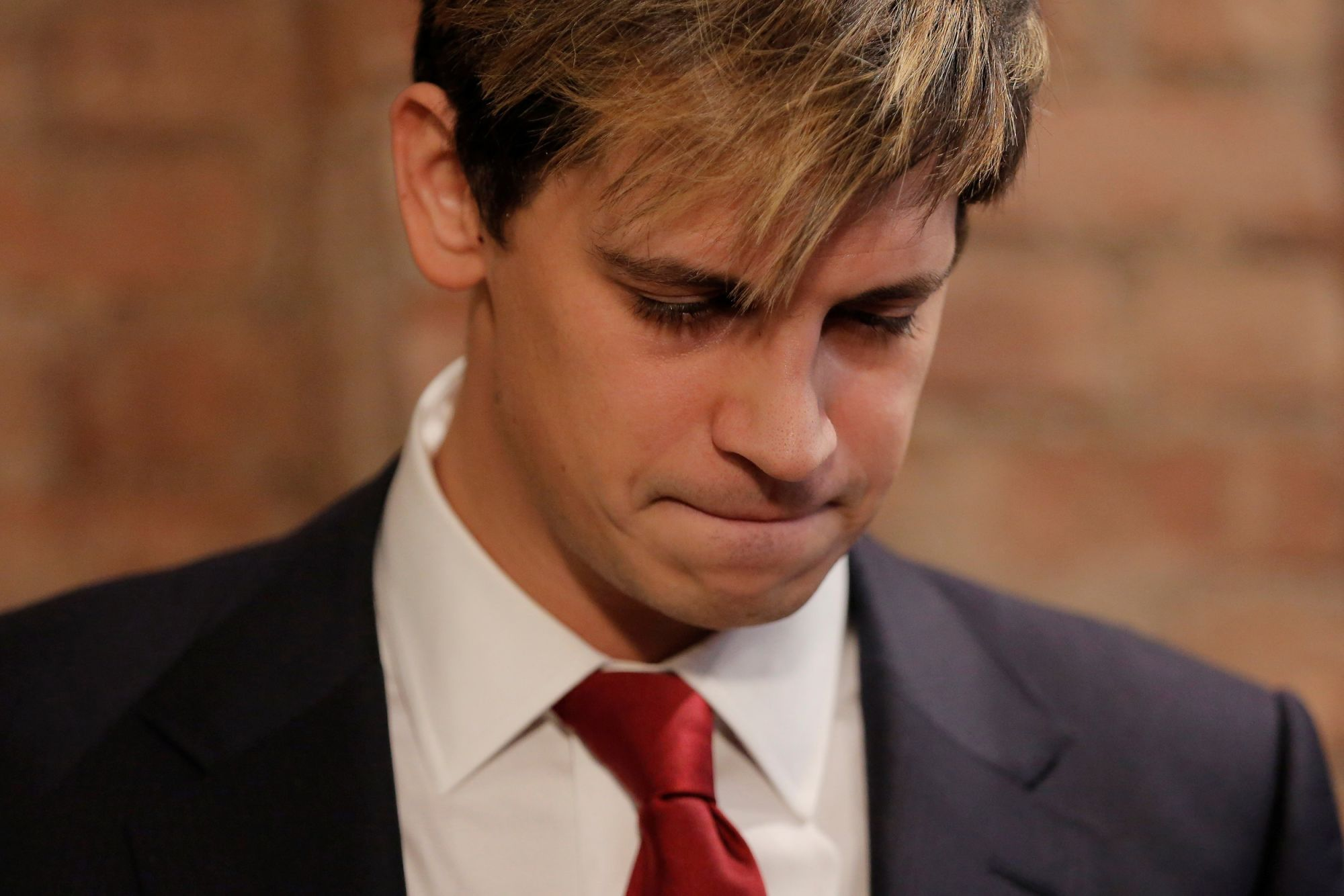 A despondent Milo faces the press
Yiannopoulos was given minor reprieve from the scandal in March after he was nominated for the position of rector at Glasgow University, a position nominated by and voted for by the establishments alumni (the title was prior held by Edward Snowden). Despite a fairly committed campaign Milo placed a meagre 4th in the polls, taking just 533 votes out of 8,210 (or just 6.49% overall).
Further misery was to follow in October, as a resurfaced video circulated showing Milo singing karaoke (badly) to a packed Dallas bar whilst many patrons eagerly Nazi saluted towards him, including notorious white supremacist Richard Spencer. Financial catastrophe was soon to follow in November 2017 after his key supporter Robert Mercer (who previously funded Milos college speaking tour) pulled all funding for the now-disgraced Yiannopoulos. As if to rub salt firmly into the wounds, Mercer made no question as to his opinions on Milo, citing he was "mistaken to have supported him" in the first place. Milo allegedly sought financial backing from cryptocurrency billionaire Matthew Mellon, although these hopes were dashed after the businessmans unexpected death in April 2018. The financial black hole hit fast and hit hard, as the following December in 2018, documents from an Australian tour promoted showed Milos debt to be circa $2,000,000. Milo strenuously denied this, citing it to be yet more fake news and that he was actually $4,000,000 in debt. By sheer luck of fate, Milos problems regarding any Australian visits corrected themselves, as he was banned from the entire country in March 2019 over comments made about the Christchurch terrorist attack.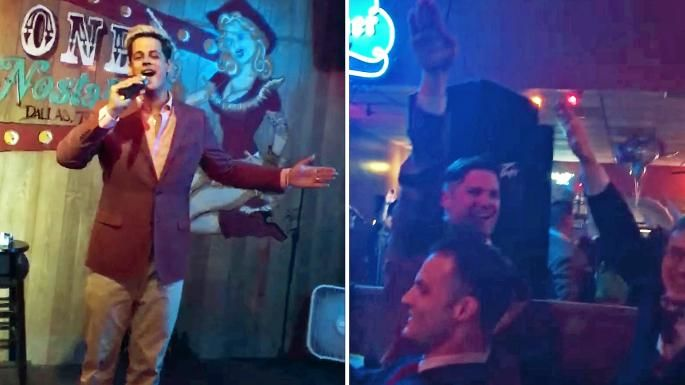 Milo jams whilst adoring white nationalists pledge allegiance to the Fuhrer
Arguably Milos most damning critics were to hit hard in late December 2017. Having taken Simon & Schuster to court over their decision to drop him from their book deal, numerous comments from the publishers were released showing strong feedback towards his books manuscript. The comments were less than kind. "This just doesn't make any sense here" and "UGH" were among the kindest, whilst "This entire section is the most poorly thought out section in the book", and simply "Unclear, unfunny, delete", appeared to be the least merciless.
With fans turning on him, platforms crumbling before his eyes, and with personal and financial backers not picking up the phone, Milo turned his anger onto the only ones willing to listen... his own supporters. In response to bemused comments regarding his lavish lifestyle despite his financial problems Milo fired back at critics (aka, his own fans) in an unflinching mini-essay during which he insisted he had been "betrayed and abandoned" by those on the right-wing. However, in May 2019, Milo was relieved of all the stresses and antagonism that came with having Facebook... having been banned from the platform altogether (alongside various others such as Laura Loomer and Alex Jones).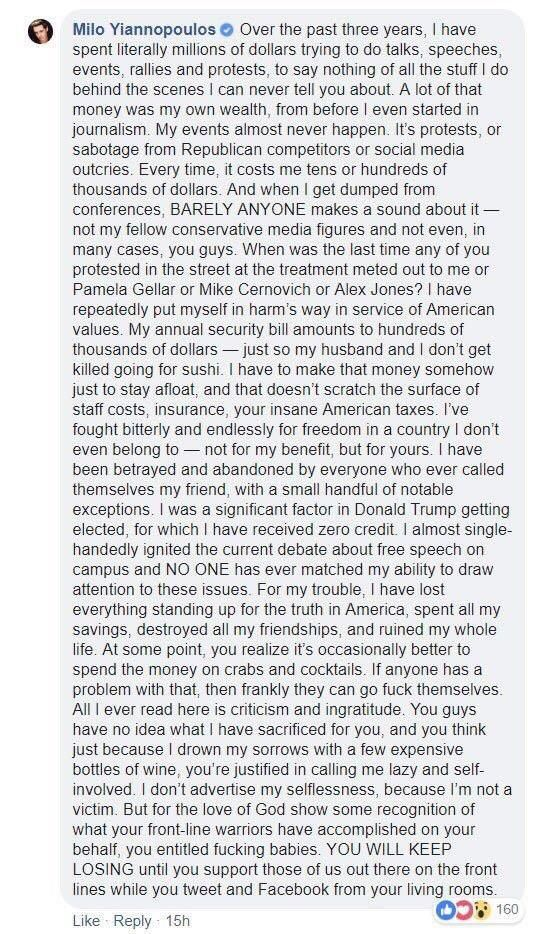 The relentless Facebook post made my Milo (pre-ban) criticising his own supporters
Having been "betrayed and abandoned" by the right-wing, having been disgraced by effectively everyone else, with no real financial supporters, with no-one willing to stump up his security costs to hear him speak publicly, and with no real major social media platforms remaining, Milo took refuge in two of the only social media outlets who hadn't already kicked him off their platform sans mercy.
One of which was Telegram, a site committed to "free speech" however highly limited in interactivity. The migration did not bring the same scope for appeal as Facebook or Twitter, and despite a lengthy campaign of harassment and abuse against journalist Will Sommer, his wife, and many many others, Milo accrued a paltry 20,000 followers as of October 2019. Having branded the app "a wasteland", he again took aim at his own supporters in September, criticising them for not buying merchandise, tickets, or donating cash for no apparent reason.
The alternative outlet of choice for Milo became Gab, a website typecast as being the choice of platform for Pittsburgh Squirrel Hill synagogue shooter Robert Bowers shortly before he opened fire and murdered 11 Jews. In a Telegram post he bemoaned the "free speech" of the Twitter-style platform, calling it "relentlessly, exhaustingly hostile and jam packed full of teen racists who totally dictate the tone and discussion (I can't post without being called a pedo kike infiltrator half a dozen times)". Indeed a brief look at the comments section packing Milos personal posts are unkind to say the least, with one user mocking his $4,000,000 debt, whilst another simply replied "Cunt.".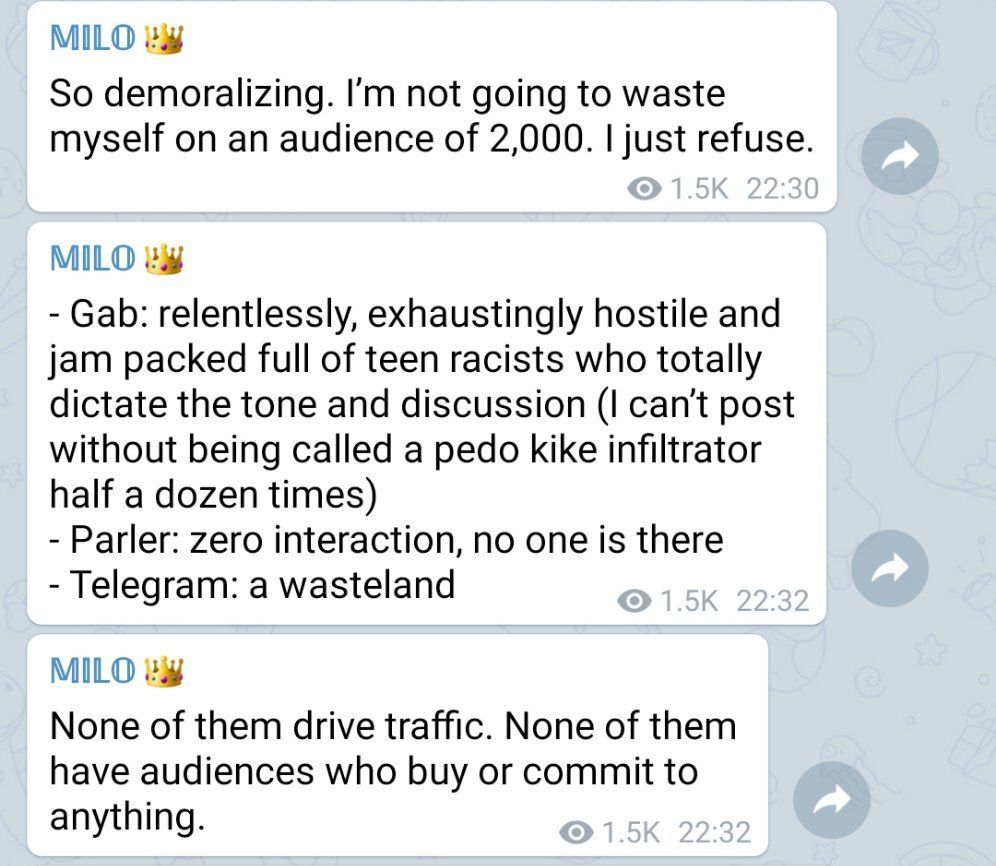 Milo takes aim for another round of criticising his own supporters
One platform they could not take away from him was his own website, dangerous.com. In October, amidst mounting speculation owing to Milos deep financial troubles, Yiannopoulos sold this, leaving a bleak note for fans with little explanation other than "Dangerous.com has been sold and is no longer associated with its previous owner.". The same month, Milo was present at a press conference hosted by conspiracy theorists and known-fraudsters Jack Burkman and Jacob Wohl, during which he was incessantly ridiculed with heckles accusing him of child sex abuse, alongside being targeted with donuts and banjos.
Heading into the new year and new decade, the once promising future for Yiannopoulos by now looked incredibly bleak, both professionally and personally. $4,000,000 in debt, serious financial backers long gone, the right-wing having discarded him wastefully, his limited amount of fans rapidly losing interest, speaking opportunities becoming scarce at best, with almost no platforms and no personal website to spread his "message", Milos life has been, in his own personal words... "destroyed". A brief overview of the places Yiannopoulos has been banished from is vast: Facebook, Twitter, Instagram, PayPal, Venmo, Eventbrite, Shopify, Patreon, Coinbase, Periscope, Mailchimp, Tumblr, the entire nation of Australia, amongst many many others.
In April 2020 and amidst his everlasting financial hell Yiannopolous' latest business venture saw him resort to selling his own used underwear for the pricey sum of $250, and a lock of his own hair (poorly dyed or not) for the grand price of $2,000. In June that year and not long after his own self-admission that he "can't put food on the table" Yiannopoulos grew increasingly desperate, resorting to promoting his own DoorDash referral code in a desperate attempt to have fans pay for his next meal. The following day, the avid Trump supporter officially resigned his support for the US President, stating that he "regrets ever supporting him", thus rendering his "proudest" work entirely meaningless.
It appears now that the only people willing to give time and attention to Yiannopoulos are the trolls who inhibit the comments section on his Gab account. At least in this place the "cunt" can enjoy the free speech he previously basked in.