El Paso gunman Patrick Crusius moments before carrying out his attack inside a Texan Walmart
September 1st 2019
Firearms are not the only weapon used during mass-murders and attacks in the USA (the Westmoreland murders in Tennessee were believe to have been carried out with blunt instruments, whilst the New York attacker of October 2018 used a truck), however they are a common factor in mass-murder within the country. Widescale attacks such as the Las Vegas massacre which killed 58 and wounded around 400-800 gain national and international coverage. However, there is also several mass-murders that go by relatively unseen every year. This article tracks every mass-murder carried out using firearms within the USA for the year of 2019.
*For clarification purposes, a mass-murder in this tracker is defined as FOUR people or more having been killed in one incident or in a spree attack by guns, not including the perpetrator themselves. Only instances where four or more people are killed by guns will be included. For example, the Phoenix murders in April lead to 4 dead, but one was killed with a baseball bat, therefore this is not included.*
Up to the time of the most recent incident (on October 31st, or the 304th day of the year) there has been 27 mass-murders carried out with firearms within the USA, an average of one every 11.2 days (approximately). These range from mass-familicide to terrorist attacks. The most deadly was carried out in El Paso, an anti-Hispanic terrorist attack in which 22 people were killed at a Walmart, alongside 24 who were injured.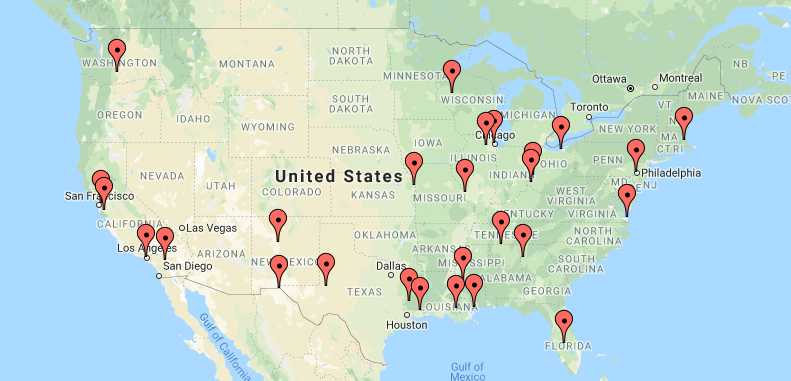 US firearm mass-murders in 2019 mapped throughout the country
In addition to those on mainland United States, a further mass-murder using firearms was carried out in the US territory of Puerto Rico, after a shoot-out in San Juan left 6 dead. Other notable mass-murders throughout the year include those in Westmoreland (TN, carried out with blunt instruments), Phoenix (AZ, carried out with gun/s and a baseball bat), Mandan (ND, using guns and knives), Los Angeles (CA, a mass-stabbing spree), Ocala (FL, a baseball bat), and New York City (a metal pipe).