Stoneman Douglas High School, where gunman Nikolas Cruz carried out the worst high school shooting in US history
September 11th 2019
CLAIM: There has been 288 school shootings in the USA since January 2009 (by CNN).
RESULT: False, although there has been approximately 25 attacks since January 2009.
In late-mid May 2018, CNN made an astounding claim that the United States had seen 288 school shootings between January 2009 and May 2018. The claim was highly topical at the time given it was made around a week after the Santa Fe High School shooting on May 18th 2018, during which 10 people were killed and another 12 were wounded. Months prior to that incident was the Stoneman Douglas High School shooting which resulted in 17 killed and 17 injured in what remains to be the worst high school shooting in the nations history. To many, 288 seemed unrealistically high, as that would amount to a school shooting every 11 days (between 1/1/2009 and 18/05/2018) even before you remove weekends and holidays.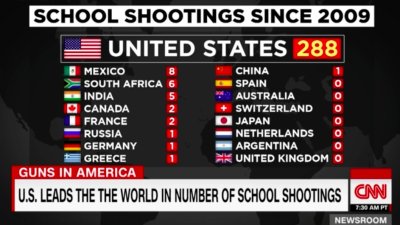 CNN's controversial graphic raised much debate about the true number of school attacks
What's Wrong With The Claim?
The point of this article is not to attack CNN or its integrity but to gain a firmer understanding of how many real attacks there has been. Within their 288 incidents CNN appeared to include incidents of gang- and drug-related violence, domestic incidents, targetted individual vendettas, accidental gun discharges, arguments, and various other motivations that are not generally considered "attacks". For example, the shooting at Great Mills High originally appeared to have been an attack, however it was later revealed to have been a domestic dispute taken to school. This article will look at how many indiscriminate attacks have been carried out. It won't include plots or failed attempts if they are prevented before the attack took place (notably Dennis Intermediate School) but will include attacks that were intervened upon having already begin (such as Noblesville).
The Important Figures
The USA has witnessed around 25 school shooting attacks since January 1st 2009. These range from largely ineffective attacks such as the attempt on Dixon High which left no-one injured bar the perpetrator, to massacres such as the attack upon Sandy Hook Elementary which left 26 dead and 2 injured.
These attacks are listed below:
United States School Shooting Attacks (since January 2009):
October 8th 2010 – Kelly Elementary (Carlsbad, CA, 0 killed, 2 injured).

February 27th 2012 – Chardon High School (Chardon, Ohio, 3 killed, 3 injured).

April 2nd 2012 – Oikos University (Oakland, CA, 7 killed, 3 injured).

August 27th 2012 – Perry Hall High School (Perry Hall, Maryland, 0 killed, 1 injured).

December 12th 2012 – Sandy Hook Elementary (Newtown, CT, 26 dead, 2 injured).

January 10th 2013 – Taft Union High School (Taft, CA, 0 killed, 2 injured).

June 7th 2013 – Santa Monica College* (Santa Monica, CA, 1 killed, 0 injured).

October 21st 2013 – Sparks Middle School (Sparks, Nevada, 1 killed, 2 injured).

June 5th 2014 – Seattle Pacific University (Seattle, WA, 1 killed, 3 injured).

June 10th 2014 – Reynolds High School (Troutdale, Oregon, 1 killed, 1 injured).

October 24th 2014 – Marysville-Pilchuk High School (Marysville, WA, 4 killed, 1 injured).

October 1st 2015 – Umpqua Community College (Roseburg, Oregon, 9 killed, 9 injured).

February 29th 2016 – Madison High School (Midletown, Ohio, 0 killed 4 injured).

September 28th 2016 – Townville Elementary (Townville, SC, 2 killed, 2 injured).

September 13th 2017 – Freeman High School (Rockford, WA, 1 killed, 3 injured).

September 20th 2017 – Mattoon High School (Mattoon, IL, 0 killed, 1 injured).

December 17th 2017 – Aztec High (Aztec, NM, 2 killed, 0 injured).

January 23rd 2018 – Marshall County High (Marshall County, KY, 2 killed, 15 injured).

February 14th 2018 – Stoneman Douglas High School (Parkland, FL, 17 killed, 17 injured).

May 16th 2018 – Dixon High School (Dixon, IL, 0 killed, 0 injured).

May 18th 2018 – Santa Fe High School (Santa Fe, NM, 10 killed, 12 injured).

May 25th 2018 – Noblesville High School (Noblesville, IN, 0 killed, 2 injured).

April 30th 2019 – UNCC (Charlotte, NC, 2 killed, 4 injured).

May 7th 2019 – STEM School Highlands Ranch (Highlands Ranch, CO, 1 killed, 8 injured).

Novembr 14th 2019 - Saugus High School (Santa Clarita, CA, 2 killed, 3 injured).
* The Santa Monica shootings covered 9 locations, only the shootings outside and inside the college are included here.
Of these, 6 could be considered "mass-murder" in that 4+ died not including the perpetrator (Oikos, Sandy Hook, Marysville-Pilchuk, Umpqua, Stoneman Douglas, and Santa Fe). Alternatively, 12 could be considered "mass-shootings" in that 4+ people were shot (killed or injured) not including the perpetrator.
What's Missing?
Given the specific time-frame of January 2009 onwards, this will neglect to mention other significant attacks such as the one at Columbine High School in April 1999 which left 13 dead and has since inspired a wave of copycat attacks either perpetrated or attempted. It also does not include the 2007 Virginia Tech massacre which saw 32 dead and 23 injured in what remains to be the most deadly school shooting in world history (provided you remove jihadist and militant attacks; as well as the Bath school disaster in which most of the fatalities were caused by explosives; with these included Virginia Tech is 9th overall).
Why So Many?
25 is of course a drastic reduction from 288 (which was never really plausible) however 25 school shootings within this period is still a significant amount especially given the high fatality toll from several of them. The United States has the highest rate of guns-ownership-person in the world, and the Small Arms Survey 2018 suggests this could be as high as 122 guns owned for every 100 people. Therefore high accessability to firearms is of course likely to be the biggest singular factor. However it is unlikely to be as straight forward as this.
One possibility may be that schools are seen as ideal targets given they hold a large amount of people broken down into smaller clusters, as acknowledged by Sandy Hook shooter Adam Lanza. A shooter can attack a classroom of 20 people then simply move onto the next class.
A further reason may be the easier attempt to gain notoriety or publicity as school shootings are general more reported on than if a similar victim count happened elsewhere such as a concert or a town hall. The Marysville-Pilchuk shooting received extensive amounts of coverage however the Nashville Waffle House shooting did not, despite the similar victim numbers.