CCTV footage of the attacker
October 9th 2019
Two people were killed, one an elderly German woman and another a male German-born kebab shop worker, and a further two people were injured during an attempted anti-Semitic terrorist attack in the German city of Halle on October 9th 2019. The gunman, a 27 year old German national named Stephan Balliet, carried out the attempted terrorist attack that ultimately failed miserably.
The Halle gunmans first of many failures
Balliet utilised homemade firearms and homemade improvised explosive devices in an attack that was marred by malfunctions and incompetence. Balliet attempted to enter a synagogue, and failed. Using a homemade explosive grenade he attempted to blow open the main gates to the synagogue, and failed. After shooting dead an innocent German woman from Halle, he attempted to open fire on a passer-by who had stopped to help the woman, and failed after his firearm failed to fire. Balliet then attempted to shoot open the door of the synagogue, and failed.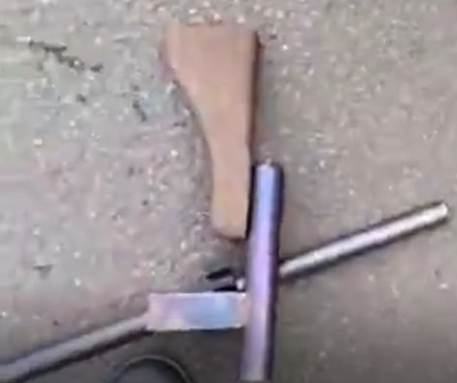 A poorly constructed homemade firearm used by the attacker
Having grown impatient he drove to a nearby kebab shop where he again attempted to open fire on three individuals inside. Although his weapons failed to fire on numerous occasions, one person was killed in the attack. Balliet attempted to open fire on passers-by in the street, missing one man from point-blank range, before returning to the kebab shop and firing repeatedly at the already deceased individual.
Balliet fired upon responding police officers from behind his car however he fled in his vehicle having been injured in the neck. After a lengthy police chase, he was apprehended and arrested.
The gunman broadcast his assault live on Twitch, a livestreaming service used primarily for video-gamers, and although authorities scrambled to remove the broadcast it spread rapidly online in right-wing circles. The broadcast video showed close resemblance to that of the Christchurch attack, which was also broadcast online, beginning in the attackers car before driving to the intended target. Unlike the attacker in Christchurch, Balliet failed to even get in the front door.