The "Viners Assure" range of knives by Liverpudlian cutlery firm Rayware
September 25th 2019
A drastic rise in knife crime across the UK has left authorities, police, politicians and many more looking for an answer on how to end the British epidemic. Various solutions have been mooted or implemented such as increased funding for social activities, retailers such as Asda halting online sales of knives, increased numbers of policemen and women, as well as increased stop-and-search powers for police forces. One British company feels it may have an answer to help mitigate the crisis.
Rayware, a leading Liverpool-based cutlery firm, is set to pioneer its brand of home- and street- safe cutlery with its latest "Viners Assure" range, set to launch in January 2020. The innovative design will consist of a rounded, blunted, "stab-proof" tip of the knives instead of the typical and needless sharp point. The company has insisted the new design makes it "impossible" to penetrate a persons flesh, and is safe enough to the point it will not even puncture a balloon when stabbed, whilst still retaining its key feature of slicing and chopping.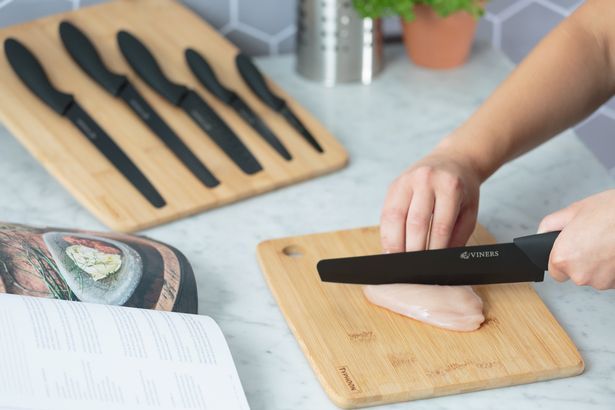 The firm insisted the knives are designed predominantly with public safety as a forefront, and that the move was inspired by constant headlines of horror and homicide locally and throughout the country. Office For National Statistics data showed that in the statistical year of 2017 to 2018 there were 268 knife or sharp instrument homicides recorded, a drastic increase from 216 recorded the previous year, as well as tens of thousands of knife crime offences.
The move has already drawn praise from former Plymouth Chief Superintendent Jim Webster, who had previously suggested that an easy but effective change to the manufacturing of kitchen knives could in turn lead to a significant decline in victims of knife violence. These simple changes have also been recommended by numerous doctors, surgeons, judges, scholars, chefs, and more, who have dismissed the sharp-tipped point as needless and redundant in the modern day.
In an earlier article by the32ndfloor, we detailed our own recommendation as to how to mitigate (not prevent entirely) the British knife crime crisis by blunting or rounding the edge of sharp-tipped home kitchen knives. Given the close proximity of what we outlined and what Rayware have decided to pioneer, we fully support the efforts by the company in their aim to reduce UK knife violence, and ideally wish to see other knife manufacturing companies following in their trailblazing footsteps.
Admittedly, the move will not prevent the general causes of knife violence such as gang culture, societal problems, hostilities between individuals, and poverty to name a few, however the move is a hugely positive first step from manufacturers themselves in playing their part towards ending the drastic rise in British knife violence. We hope that others follow suit.