Knife crime is on the rise in the UK. Figures from the Office for National Statistics (ONS) show that since the statistical year 2014/2015 knife offences have risen from 26,000 to 40,000 by 2017/2018, and while much of this may account for lesser crimes such as possession, serious incidents such as knive homicides have risen aswell. For this, ONS data highlights: "In 2017/18 there were 268 homicides currently recorded using a sharp instrument, including knives and broken bottles, – an increase from the 216 recorded in 2016/17." The situation has become so severe to the point of being branded a "national crisis". This surge in crime could be a consequence of various different factors, however it is most likely due to declining police numbers across the UK (in this essence England and Wales only) due to police budgeting cuts, resulting in the forces shrinking by over 20,000 bodies.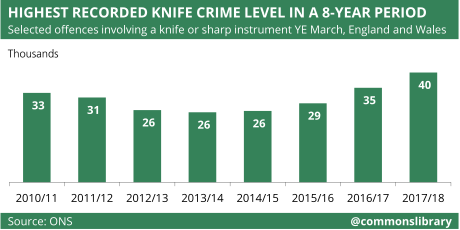 What can be done to stem the rising tide of British knife crime? Supermarket firm Asda have in response halted the sale of individual kitchen knives. Can we ban knives outright? Most likely not, just like we can't ban cars after car attacks or crashes, as vehicles and knives both bring a significant positive use to the world. What if there was a compromise? How about blunt- or round- tip knives that still retain their culinary slicing ability needed but without the potential ability for stabbing?
The is an idea that has been called for previously. Dr John Crichton, chairman of the Royal Collge of Psychiatrists in Scotland, called for a switch to "R"-bladed knives that would replace the pointed tip with a rounded end, reducing it's effectiveness as a weapon. Former judge Nic Madge also called for blunt rounded tips, insisting that ordinary household kitchen knives were causing a "soaring loss of life" and called for manufacturers to make a change in their production model.
Such a move would not be without historical precedence as highlighted by Hern, Glazebrook, and Beckett in their aptly titled review "Reducing Knife Crime: We Need To Ban The Sale Of Long Pointed Kitchen Knives" (page 1222). They note the historic evidence of King Louis XIV (in 1669) demanding all the tips of all table and street knives be ground smooth in an attempt to reduce violence. Far more recently, Nottinghamshire Police have created an initiative to benefit domestic violence victims by offering rounded-tip "no point" knives in replacement for sharp ones in order to reduce the significance of violence within the home.
What's The Literal Point?
Yes admittedly you could slash someone with the remaining sharp blade of a knife and while this could do serious damage, this is more likely to be aesthetic (such as leaving a scar) and far more superficial. With a sharp pointed tip however, a stabbing could do serious harm to a person by puncturing organs and ripping veins.
To turn the argument on its head, what justification is there to keep the pointed end in the modern day epidemic of rising crimes and their frequent exploitation for murder? A quick research of culinary methods shows various uses for a standard kitchen knife such as gutting fish, removing seeds from peppers, cutting fat out of meat, even stabbing clingfilm on microwavable dinners. Whilst several of these issues could be resolved with a fork, a safer alternative could surely be manufactured to solve the remaining issues? Hern, Glazebrook, and Becketts aforementioned study (page 1222) quizzed 10 top chefs on the neccessity of sharp tipped kitchen knives to which "none gave a reason why the long pointed knife was essential".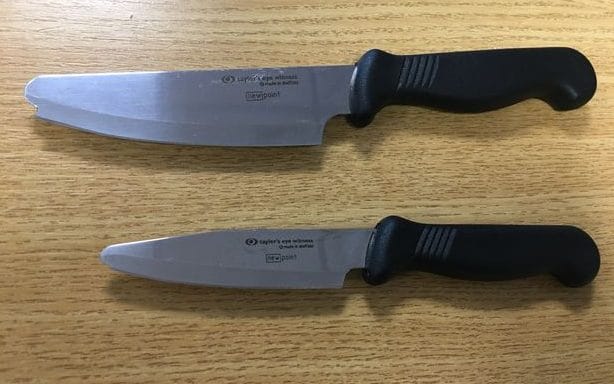 A Suggestion and Possible Solution?
With these reportings and conclusions in mind, a possible solution to reduce the number of knive homicides and the damage done by knive attacks is outlined below as follows:
Pass legislation meaning that companies can no longer manufacture sharp-pointed long knives.

Give the manufacturers time to adjust their method of production. This may be done by blunting or rounding the edge tip of a knife, or by covering it with softer material. After this period has elapsed it becomes illegal to manufacture them.

Give an amnesty period for people who own a now-illegal sharp-pointed knife.

Run a campaign for a knife amnesty, encouraging people to hand in or bin such knives, insisting that regular people can play their part in ending Britains knife-crime epidemic.

After a certain period of time passes, people can now be held liable for owning what is now considered a dangerous weapon. This could lead to instant confiscation.
Conclusion
This is a change that has previously been on the governments radar in the past back in 2008-2009. Official government minutes such as "Knife Crime: Seventh Report of Session 2008-09, [Vol. 1]: Report, Together With Formal Minutes" showed that thegovernment was "looking at the potential to manufacture a "knife which does the job but which would be virtually useless if it came to doing damage to a human being"." (page 39, section 96). The report also showed co-operation with the Cutlery & Allied Trades Research Association in the hopes of redesigning the average kitchen knife to retain its culinary advantages but to reduce the ability for penetration during a stabbing (p39, s96).
The UK government still has much to do in resolving underlying issues that may be to blame for creating knife crime, such as poverty, unemployment, or lack of opportunities. This is not a catch-all solution and will not completely eradicate the UK's knive problem in its entirety, however it can help to mitigate the severity of a knife attack, giving victims a better chance of fighting back and survival, as well as reducing the severity of injuries sustained during an attack. If a simple change in manufacturing helps to ease the drastic rise in UK knife homicides and to reduce the severity of injuries sustained by knife crime victims, it is surely worth comtemplating?
Little will be lost... but lives could be saved.