El Paso gunman Patrick Crusius moments before carrying out his attack inside a Texan Walmart
September 1st 2019
Firearms are not the only weapon used during mass-murders and attacks in the USA (the Westmoreland murders in Tennessee were believe to have been carried out with blunt instruments, whilst the New York attacker of October 2018 used a truck), however they are a common factor in mass-murder within the country. Widescale attacks such as the Las Vegas massacre which killed 58 and wounded around 400-800 gain national and international coverage. However, there is also several mass-murders that go by relatively unseen every year. This article tracked every mass-murder carried out using firearms within the USA for the year of 2019. (A further article will track similar incidents for the year 2020.)
*For clarification purposes, a mass-murder in this tracker is defined as FOUR people or more having been killed in one incident or in a spree attack by guns, not including the perpetrator themselves. Only instances where four or more people are killed by guns will be included. For example, the Phoenix murders in April lead to 4 dead, but one was killed with a baseball bat, therefore this is not included.*
| | | | | | | |
| --- | --- | --- | --- | --- | --- | --- |
| Number | Date | Location | Killed | Injured | Description | Source |
| | | | | | | |
| 1 | January 23rd 2019 | Sebring (FL) | 5 | 0 | Public attack at bank, all victims were female | http://tiny.cc/8i889y |
| 2 | January 24th | Rockmart (GA) | 4 | 1 | Two shootings at two residences | http://tiny.cc/bn889y |
| 3 | January 26th | Ascension Parish (LA) | 5 | 0 | Connected familicide | http://tiny.cc/yr889y |
| 4 | February 4th | Palm Springs (CA) | 4 | 0 | Shooting and car crash | http://tiny.cc/ve80bz |
| 5 | February 11th | Blanchard (TX) | 5 | 0 | Contained to one residence | http://tiny.cc/vw889y |
| 6 | February 15th | Aurora (IL) | 5 | 7 | Workplace retaliation | http://tiny.cc/s1889y |
| 7 | February 16th | Clinton (MS) | 4 | 0 | Hostage stand-off | http://tiny.cc/36889y |
| 8 | April 29th | West Chester Township (OH) | 4 | 0 | Contained to one residence, victims were Sikhs | http://tiny.cc/pb989y |
| 9 | May 13th | St. Louis (MO) | 4 | 1 | Contained to one residence | http://tiny.cc/ah989y |
| 10 | May 31st | Virginia Beach (VA) | 12 | 4 | Workplace violence | http://tiny.cc/oj989y |
| 11 | June 8th | White Swan (WA) | 5 | 2 | Multiple bodies found across rural tribal ranch | http://tiny.cc/on989y |
| 12 | June 23rd | San Jose (CA) | 4 | 0 | Mass-familicide | http://tiny.cc/qs989y |
| 13 | July 6th | Saint Louis (MS) | 5 | 0 | Contained to one residence | http://tiny.cc/ev989y |
| 14 | July 25th | Los Angeles (CA) | 4 | 1 | Familicide, spree | http://tiny.cc/y25aaz |
| 15 | July 28th | Chippewa County (WI) | 4 | 2 | Spree, two residences | http://tiny.cc/i3yfaz |
| 16 | August 3rd | El Paso (TX) | 23 | 24 | Anti-Hispanic terrorist attack | http://tiny.cc/j3xgbz |
| 17 | August 4th | Dayton (OH) | 9 | 27 | Public attack | http://tiny.cc/i5xgbz |
| 18 | August 31st | Odessa (TX) | 7 | 21 | Spree shooting | http://tiny.cc/gra1bz |
| 19 | September 2nd | Elkmont (AL) | 5 | 0 | Mass-familicide by 14 year old | |
| 20 | September 13th | Albuquerque (NM) | 4 | 2 | Shooting at mobile home park | http://tiny.cc/xuvpc |
| 21 | September 21st | Cleveland (OH) | 4 | 0 | Contained to one abandoned residence | |
| 22 | September 29th | Beaumont (TX) | 4 | 0 | Contained to one residence | |
| 23 | October 6th | Kansas City (KS) | 4 | 5 | Shooting at a public bar | |
| 24 | October 7th | Abington (MA) | 4 | 0 | Mass-familicide | |
| 25 | October 12th | Chicago (IL) | 5 | 0 | Shot neighbours | |
| 26 | October 30th | Philadelphia (PA) | 4 | 0 | Mass-familicide | |
| 27 | October 31st | Orinda (CA) | 5 | 3 | Shooting at a Hallowe'en party | http://tiny.cc/suujfz |
| 28 | November 16th | San Diego (CA) | 5 | 0 | Mass-familicide | |
| 29 | November 17th | Fresno (CA) | 4 | 6 | Attack on Hmong family get-together | |
| 30 | December 10th | Jersey City (NJ) | 4 | 3 | Presumed anti-Semitic attack | |
| | | | | | | |
| Total | | | 165 | 109 | | |
There was an estimated 30 mass-murders carried out with firearms within the USA, an average of one every 11.46 days (approximately). These range from mass-familicide to terrorist attacks. The most deadly was carried out in El Paso, an anti-Hispanic terrorist attack in which 22 people were killed at a Walmart, alongside 24 who were injured (a further victim later died in late April 2020).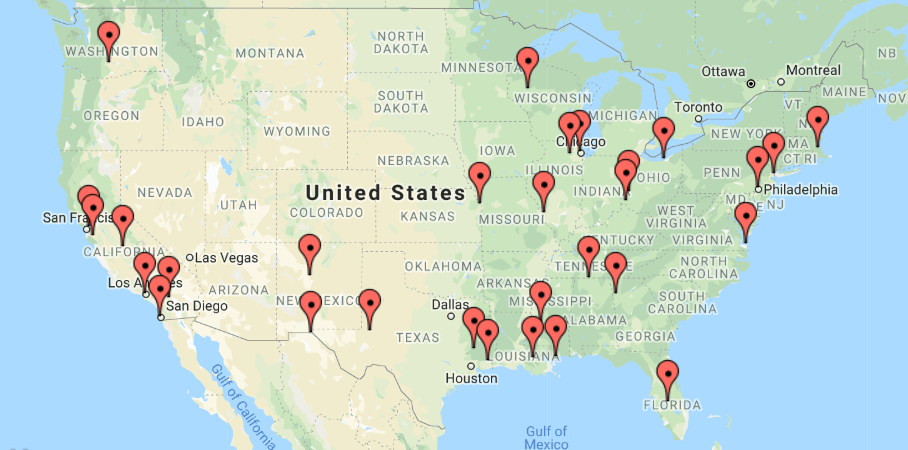 US firearm mass-murders in 2019 mapped throughout the country
In addition to those on mainland United States, a further mass-murder using firearms was carried out in the US territory of Puerto Rico, after a shoot-out in San Juan left 6 dead. Other notable mass-murders throughout the year include those in Westmoreland (TN, carried out with blunt instruments), Phoenix (AZ, carried out with gun/s and a baseball bat), Mandan (ND, using guns and knives), Los Angeles (CA, a mass-stabbing spree), Ocala (FL, a baseball bat), New York City (a metal pipe), and Morrisville (PA, suffocation), and a fire in Goodfield (IL) started by a 9 year old.
An additional mass-murder took place in Santa Maria (CA), a shooting and house fire / explosion, however it could not be ultimately determined if all four of the victims were shot dead or died due to the blast, therefore this is not included in the mass-shooting tally. Additionally to this, the Todt family slayings which left 4 dead were believed to have been carried out in "late December", however they were only discovered in late January 2020.
Including these incidents there was (at least) 41 mass-murders within the United States (and Puerto Rico) in 2019, an average of one every 9 days.